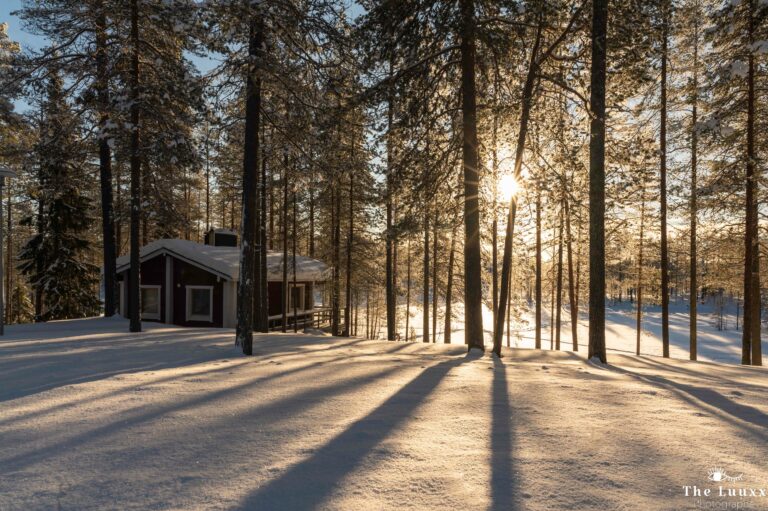 Welcome to this new article about my trip to Finnish Lapland.
You will find there the details of the trip, the activities carried out, some advice for leaving, and finally some advice for observing the aurora borealis. Other tips and photos are also available in the story tab on my instagram . Do not hesitate to consult it.
Day 0 – Departure, choice of equipment & Preparation:
I went with a friend for a week to Naali Lodge , near Posio, on a stay organized with a French guide (Thierry) who manages the lodge with his wife Catherine. This allows you to have equipment on loan in winter, and not to be lost in Lapland, which is a quite different region and which can be quite hostile if you are not well prepared. This also allows you to avoid unpleasant surprises and unforeseen expenses.
To get there, I chose to take the train from Toulouse to Paris, then two planes to Kuusamo via Finnair, having to join a friend in Paris. It is also possible to leave directly from Toulouse by taking two planes, via the Lufthansa company.
Regarding clothing, it is true that you really need to equip yourself, especially if you want to leave in the middle of winter. In order to limit the financial cost of purchases, I chose to use a second-hand clothing resale application, and a few add-ons from Decathlon. Do not hesitate to ask your friends if they have clothes to lend you.
Provide suitable shoes, ski socks and under socks. If you go in winter, the Sorel brand is a good brand.
Remember to take a very warm hat, or a chapka as well as a fleece neck warmer.
For the hands, you can take under gloves (practical for using the mobile phone or the camera) matched with very warm gloves.
I took very warm ski pants, as well as merino tights to wear underneath.
Regarding the top, I took several merino sweaters, fleeces, and a ski coat (going down to -20°).
Remember to take a more resistant and waterproof backpack with a large insulated water bottle (in case of negative temperature).
For the rest of the things to take, I advise you to take:
A medicine kit,
A greasy body cream, without water (Shea type, or oil),
Heaters according to your sensitivity to cold (hand / foot),
Arnica,
A headlamp to go hunting for the aurora borealis,
And of course don't forget bathing equipment for the sauna if you want to make some!
Finally, if you are a photographer or you like to take pretty pictures on vacation, you will probably want to take beautiful pictures, and I can only encourage you!
Your box, with a bright ultra wide angle lens (for the northern lights). Personally, I left with the Nikon Z6, the 24mm 1.8 (for walks) and the 14mm 2.8 (for the northern lights). To avoid overloading myself, I didn't take portrait lenses, but I regretted it a bit, especially during the outing with the reindeer,
A tripod,
A plastic bag to store it (and avoid operating problems during temperature differences),
Several backup batteries,
A cloth to wipe off the lens (and camera) in case of condensation.
Day 1: Snowshoe ski tour to Riisitunturin
This first day was really a great experience. After a good breakfast in the restaurant near the lodge, we left with Thierry, our guide for the whole stay for this beautiful day trip.
So we went to the Riisitunturin National Park for a snowshoe ski trip (a kind of ski for walking).
The more we climb, the more the trees are covered with snow (yes, it is indeed a tree in the photos!). At the end of winter, some trees can have up to 3-4 tons of snow on them.
It wasn't too cold, but once we got to the top, we were still happy to have some warm clothes! As you can see from the photos, the weather was not very nice, and rather dark.
We took a break from Finland in a wooden cabin built to eat and drink glögi. There are often such shelters, with dry toilets and wood for the fire. We are surprised to see such well-maintained shelters for lunch.
If you are curious, I advise you to look at what the national park looks like in summer on your search engine, the difference is quite striking !
Back at the lodge, the sun sets relatively early (around 4 p.m. during our stay) so we take the opportunity to rest in the sauna after this walk.
Day 2: Traditional fishing on a frozen lake
During our stay, it is not very cold for Lapland (about -6 degrees at the beginning of the week) but it can be windy. When you go to Finland in winter, it is advisable to avoid makeup and use water-based products in the morning.
For this second day, we put on our cold weather suits lent by the lodges and we go to join the fishing guide for a nice discovery.
From the meeting point, we go on a snowmobile on a frozen and snowy lake. The lake is gigantic. Almost 50 km long! The ice is approaching 70 centimeters, it's quite impressive.
The fisherman shows us the traditional net fishing technique.
On returning to the lodge, we will, like every evening, enjoy the very hot sauna before throwing ourselves into the snow, as is the Finnish tradition. Would you dare?
Day 3: Visit a reindeer farm
For this new day, we are leaving again in very cold combinations in order to be protected as well as possible during this new static ride. We start with a sleigh ride, then a discovery of the reindeer on the farm. There are a lot of reindeer, and we don't know how to count them. Do not ask the number of reindeer from a breeder.
Back at the lodge, we take advantage of the time that remains of the day (the day goes to bed quite early) to take the snowshoes and take a walk on the frozen lakes around. The twilight lasts slightly longer in Lapland, and offers us a rather beautiful penumbra with polar colors.
After this little walk, we go again to the sauna of the lodge. After several hours outside, we are very happy to enter the sauna at almost 100°, but did you know that there are around three million saunas (for five million Finns!)?
Day 4: Dog sledding
For this fourth day, we are leaving in very cold combinations, and we will be very happy to wear them, because on this dog sled ride, the wind was very much felt.
We go to Kota-Husky, near Posio, and in the Riisitunturin. We leave in groups of 2, a driver and a passenger with 6 dogs each. The walk takes about 2 hours, and the dogs go on average at 20 km/h. Driving the sled is not very difficult, although it is a bit physical on the climbs when you have to push.
The dogs are eager to leave, and all bark before departure. At the start, the driver must brake, because the dogs all leave very quickly. But the experience remains relatively easy and accessible to all.
At the end of the walk, we share a glass of hot Glögi in the tent to redirect us to the lodge.
Like every night, we went out to see if we could see the Northern Lights. Unfortunately it was an untransformed attempt (or said more simply … a failure therefore). Let me detail a few things that can help you if you want to observe:
The best is to leave in an area between 60 and 70° north in order to be located in the boreal arc. No need to go too far north either,
The best time of year to see the aurora is between September and March, when there is a fairly long night
I would advise avoiding full moons, as the auroras are less green. But it also allows you to see the landscape better,
Take a guide or a car so you can get around,
Auroras occur frequently between 8 p.m. and midnight and very rarely after 3 a.m.,
Watch the weather forecast, and especially the cloud cover
And above all, be very patient: the auroras are not always visible to the naked eye, and can last several hours or just a few minutes.
Day 5 – Stroll to Korouoma and observations of the Northern Lights
As you can see for yourself, the sun has risen, and it's the only day we had really good weather. I took two thirds of my photos during this last day. A few rays of sunshine, it's amazing how it can change a landscape!
For this last day, we took a walk in the Korouama canyon. The place is superb and relatively easy to access, with a little equipment.
How to Take Magnificent Northern Lights Photos: My Tips and Secrets!
Observing the aurora borealis is sometimes a long or even very long activity, and often disappointing! To observe them, you need good conditions, and above all luck. On this stay in Finnish Lapland, I tried the 6 nights to see some, and only the last night was conclusive.
Except that what we don't know is that they are not always visible to the naked eye, or weakly. Green seems less fluorescent. The photos in this article are taken on the first half of the evening that we spent observing the Northern Lights. About 3 hours separate the first green lights on the camera from the first green lights visible to the naked eye! Apart from the last photo, nothing was visible to the naked eye!
Seeing this first series of photos of the aurora borealis, you may tell me that it's not that impressive. I left these first 4 photos, not for their beauty, but to show that all the aurora borealis are not as impressive as what we could see, as on the second series.
My experience on observing the Northern Lights in Finland
As you can imagine, when I went to Finland I was really hoping to see the Northern Lights. Despite my attempts, the nights were unfortunately very cloudy, except… the last one.
At 9 p.m., we go out in very cold combinations to go to a frozen lake at the Naali Lodge. From the start, there were small green streaks on the camera screen, but huge clouds are coming. Obviously disappointment. Part of the group descends around 10 p.m. I stay on the frozen lake, and I wait. On the observation cameras 100km to the north, the auroras are very visible. I have hope ! Around 11 p.m., patience begins to pay off: a beautiful aurora borealis is visible to the naked eye. We are delighted! The others come back, a little late, we can't see anything. We stay. Eventually, around 1am, huge northern lights appeared in the sun, lasting until 3:30am.
📸 Nikon Z6 + Samyang 14mm F2.8
⚙️ The settings that were suggested to me did not please me at all. So I did the following: Manual focus at infinity, f8, 30 second exposure. ISO 800. The settings are really to be chosen according to the weather conditions, and the speed of movement of the aurora. That night, the auroras were almost static, so I did a 30-second pose.